Rap is one of the most popular music genres. While some quotes and lyrics are legendary, others are hilarious. Read funny rap quotes for a laugh.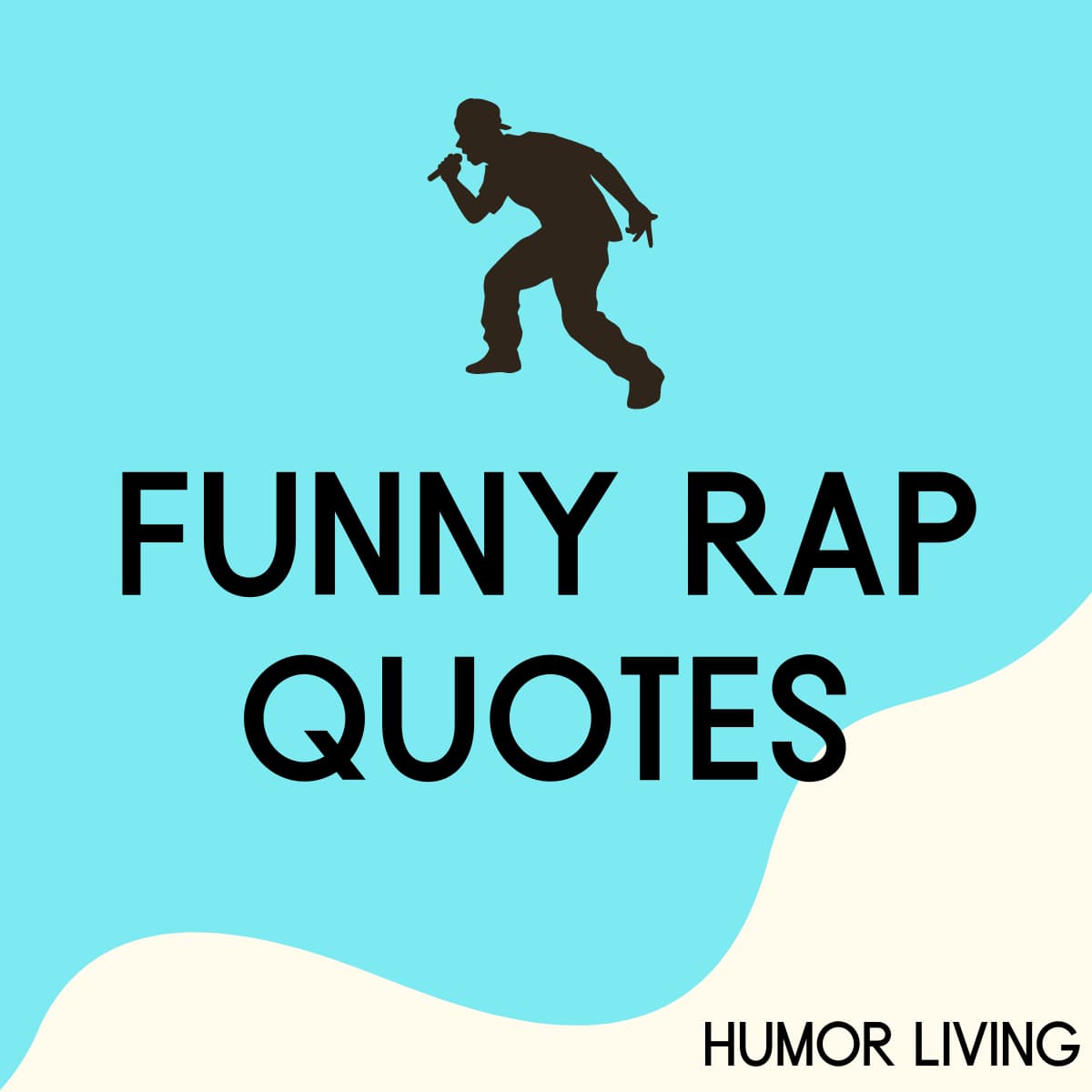 Rap is also known as hip-hop. Its origins are in The Bronx, New York, in the 1970s.
Today, it's one of the most popular genres of music. Notable rappers include Jay-Z, Nas, Drake, Kendrick Lamar, and J. Cole.
Many have also made hilarious statements or lyrics. The following are funny rap quotes that'll leave you laughing all day.
Funny rap quotes
1. "Watch out for the medallion my diamonds are reckless. Feels like a midget is hangin' from my necklace." -Ludacris
2. "Thirty-eight revolve like a Sun 'round the Earth." -Jay-Z
3. "Always been about them horizontal lines through them S's. That's a dollar sign." -Chamillionaire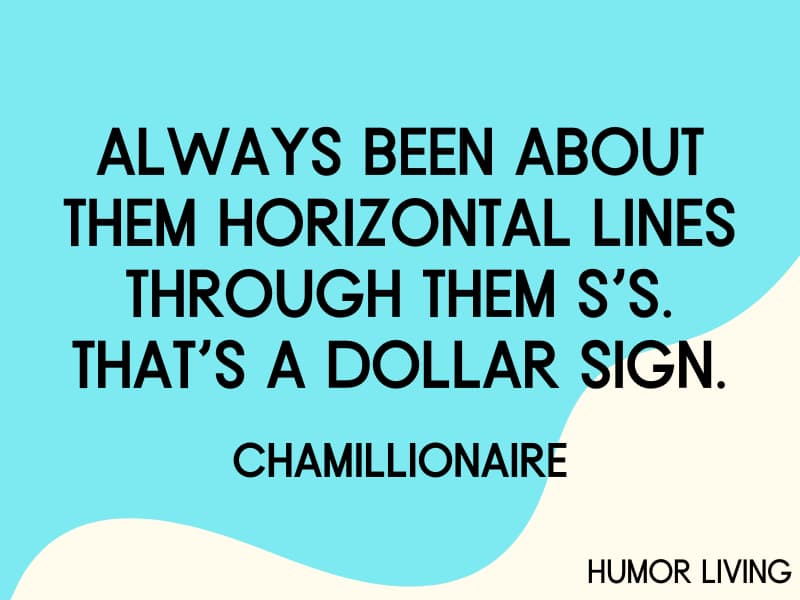 4. "Yes, my name is Roman, last name is Zolanski. But no relation to Roman Polanski." -Nicki Minaj
5. "I love you like a fat kid loves cake." -50 Cent
6. "Never let me slip, 'cause if I slip, then I'm slippin'." -Dr. Dre
7. "I'm hungry for cheese like Hungry Hungry Hippo." -Project Pat
8. "Why you gotta fight with me at Cheesecake? You know I love to go there." -Drake
9. "I'm harder than DJ Khaled playing the quiet game." -Tyler, the Creator
10. "I'm so ahead of my time my parents haven't met yet." -Big L
11. "Waiting on the Pizzle, the Dizzle and the Shizzle. G's to the bizzack, now ladies here we gizzo." -Snoop Dogg
12. "I got old money, coulda bought a dinosaur." -Lil Wayne
13. "I like my beats funky. I'm spunky, I like my oatmeal lumpy." -Digital Underground
14. "Why you sleeping with your eyes closed?" -Destiny's Child
15. "I'm like the fly Malcolm X, buy any jeans necessary." -Kanye West
16. "It's so hot up in the club that I ain't got no shoes on." -Hurricane Chris
17. "I say what's next, what's next what's N-X-E-T?" -Warren G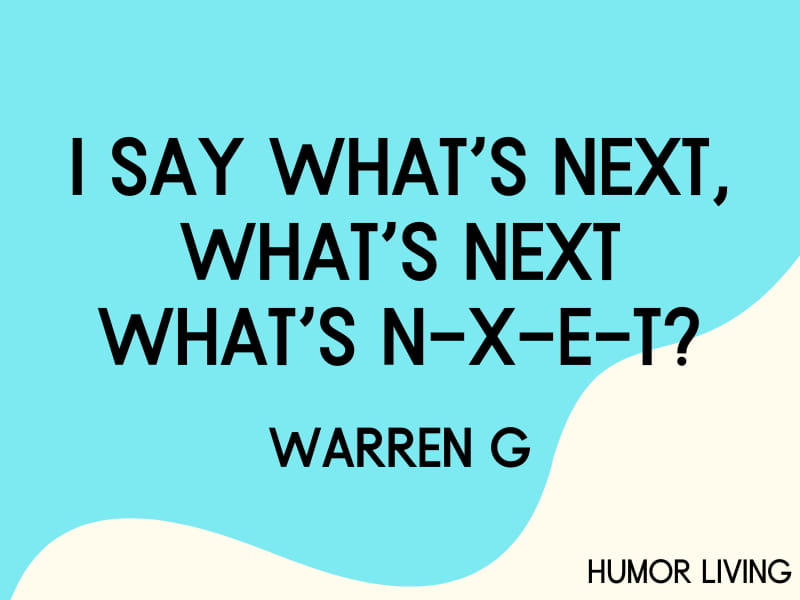 18. "Couldn't afford a car, so she named her daughter Alexis." -Kanye West
19. "She got a big booty so I call her Big Booty." -2 Chainz
20. "I sell ice in the winter, I sell fire in hell. I am a hustler baby, I'll sell water to a well." -Jay-Z
21. "Got so many chains, they call me Chaining Tatum." -Drake
22. "She told me, 'Boy you want your cake and eat it too?' I said 'It's cake, that's what you're supposed to do?'" -J. Cole
23. "Double R, that's a Rolls. Paint it yellow like it's dairy." -Young Thug
24. "Weezy F. Baby, and the F is for Phenomenal." -Lil Wayne
25. "While you only pretend to be, I can double my density. From three-sixty degrees to seven-twenty instantly." -Canibus
26. "When I was a geisha, he was a samurai. Somehow I understood him when he spoke Thai." -Nicki Minaj
27. "Why is the sky blue? Why is water wet?" -Ghostface Killah
28. "Bikinis, zucchinis, martinis, no weenies." -Snoop Dogg
29. "My paragraph alone is worth five mics (uh-huh). A twelve song LP, that's thirty-six mics (uh-huh)." -Redman
30. "Psych, I swear I'm not a violent guy. Once upon time I brought a Super Soaker to a drive-by." -Logic
31. "It's kinda hard to imagine like Kanye West comin' back from his fatal accident." -Game
32. "America's pie, put my hand in the pot." -Tyga
33. "Yeah, my side girl got a 5S with the screen cracked. Still hit me back right away." -Drake
34. "My apologies are you into astrology 'cause, um, I'm trying to make it to Uranus." -Kanye West
35. "Standing at my podium, I'm trying to watch my sodium." -Young Jeezy
36. "I'm a cow. I'm not a cat, I don't say meow." -Doja Cat
37. "Lookin' this good should be a sin, you should call me cinnamon." -Pardison Fontaine
38. "Now watch him make a movie like Albert Hitchcock." -Pitbull
39. "Moving in the Grand Prix, same color as thunder." -OJ da Juiceman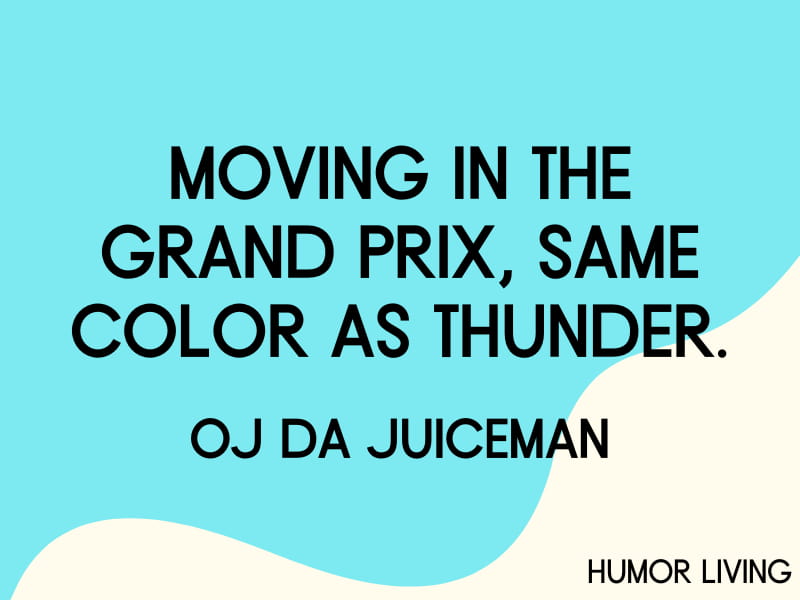 40. "I got more hoes than the ozone." -Silkk the Shocker
41. "Stroke my cactus." -Travis Scott
42. "But I know they don't want me in the damn club. They even made me show ID to get inside of Sam's Club." -Kanye West
43. "I love your sushi roll, hotter than wasabi." -Drake
44. "Your whip is a toilet, you're lookin' like poop in it." -Nav
45. "If cops pull up I put that crack in my crack. Or I put that brack in my brack." Young Thug
46. "Poop-di-scoopty. Scoopty-whoop. Whoopity-scoop, whoop-poop." -Kanye West
47. "Boy you can't out-fart me." -J. Cole
48. "Put molly all in her champagne, she ain't even know it. I took her home and I enjoyed that, she ain't even know it." -Rick Ross
49. "We in two different cities. Minnnesota and Philly." -Brother Ali
50. "Rock star, flier than an ostrich." -Lil Wayne
51. "Now you get to watch her leave out the window. Guess that's why they call it window pane." -Eminem
52. "You could have my heart or we can share it like the last slice." -Drake
53. "I'm an animal. Half-man, half-mammal." -Jay-Z
54. "I'm a Young Money millionaire, tougher than Nigerian hair." -Lil Wayne
55. "Pants on the ground. Pants on the ground. Lookin' like a fool with your pants on the ground." -Larry Platt
56. "Girl you're hot and cold, that makes you warm." -Tyga
57. "She got a light-skinned friend look like Michael Jackson. Got a dark-skinned friend look like Michael Jackson." -Kanye West
58. "Appraisal the wrist watch. The rocks bout the size. As the teeth in Chris Rock's mouth." -Danny Brown
59. "Rap is just one of my fetishes, like a dragon that's pregnant." -Jaden Smith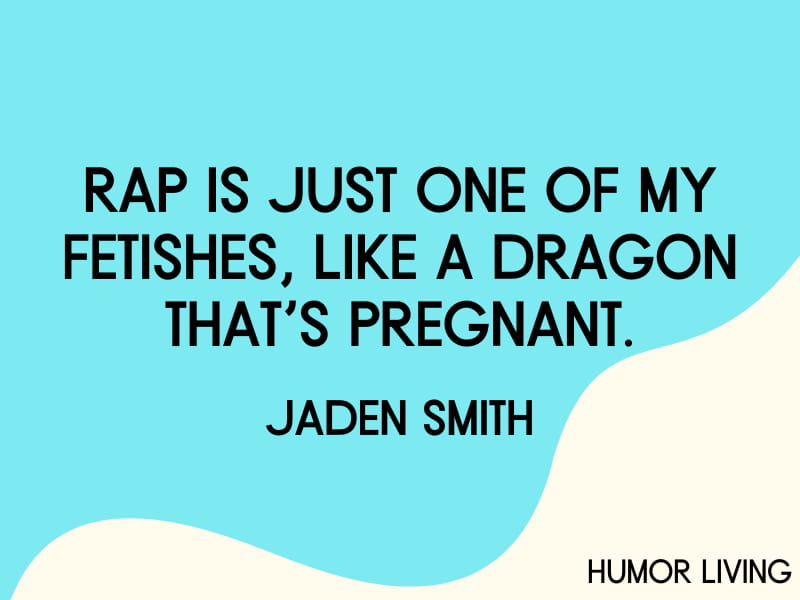 60. "I don't play no games 'less we talkin' Fortnite." -Logic
61. "Superman that hoe." -Soulja Boy
62. "I'm an ordinary person but I'm paid." -Lil Boosie
63. "I'm hot 'coz I'm fly. You ain't 'coz you're not." -MIMS
64. "Rule nombre uno." -The Notorious B.I.G.
65. "That girl know how to blow something like she played the flute." -Mac Miller
66. "You wiggity wiggity wack if you ain't got biggity back." -MC Hammer
67. "My wrist deserve a shout-out, I'm like 'What up, wrist?'" -2 Chainz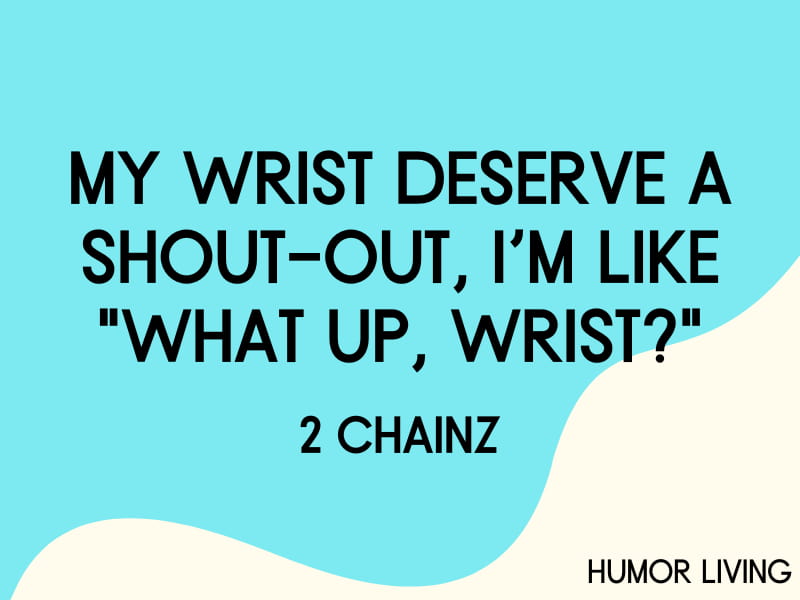 68. "Stop writing raps and go play volleyball." -Atmosphere
69. "Lemonade was a popular drink, and it still is." -Guru
70. "Honey ain't a politician, she's a pole-a-tican." -Nas
71. "Thirty-two grams raw, chop it in half, get sixteen, double it times three. We got forty-eight, which mean a whole lot of cream. Divide the profit by four, subtract it by eight. We back to sixteen." -Foxy Brown
72. "But you done broke my heart into a million pieces. I should have seen it coming, wish I had telekinesis." -LMFAO
Related: Hilarious Sayings and Expressions
Featured image by David Em/Humor Living.
David Em
David Em is the founder of Humor Living. He launched Humor Living to create a destination for you to visit anytime you need a laugh. Whether you're looking for jokes, puns, memes, or funny stories, Humor Living is the place to be.