Good wine is subjective. So, regardless of the type of wine you enjoy, get a laugh with the funniest wine quotes. Be sure to share them with others.
Most wine comes from fermented grapes, but you can use any fruit.
There are several types, such as red, white, rosé, sparkling, and fortified wines.
Related: What did the grape say when it was crushed?
Wine dates back over 6,000 years as a significant part of human culture.
Today, you can enjoy wine from more than 10,000 grape varieties.
Next time you have a glass with dinner or friends, laugh with the following funny wine quotes.
Related: Funny 21st Birthday Quotes
Hilarious and witty wine quotes
1. "I cook with wine, sometimes I even add it to the food." -W. C. Fields
2. "Wine is constant proof that God loves us and loves to see us happy." -Benjamin Franklin
3. "What I like to drink most is wine that belongs to others." -Diogenes
4. "Life is too short, and I'm Italian. I'd much rather eat pasta and drink wine than be a size 0." -Sophia Bush
5. "In victory, you deserve Champagne. In defeat you need it." -Napoleon Bonaparte
6. "I'm only drinking white wine because I'm on a diet and I don't eat." -Oliver Reed
7. "In Italy, they add work and life on to food and wine." -Robin Leach
8. "Wine flies when you're having fun." -Unknown
9. "Always carry a corkscrew and the wine shall provide itself." -Basil Bunting
10. "One of the disadvantages of wine is that it makes a man mistake words for thoughts." -Samuel Johnson
11. "Beer is made by men, wine by God." -Martin Luther
12. "Home is where the wine is." -Unknown
13. "Age is just a number. It's totally irrelevant unless, of course, you happen to be a bottle of wine." -Joan Collins
14. "Quickly, bring me a beaker of wine, so that I may wet my mind and say something clever." -Aristophanes
15. "It is widely held that too much wine will dull a man's desire. Indeed it will in a dull man." -John Osborne
16. "A gourmet meal without a glass of wine just seems tragic to me somehow." -Kathy Mattea
17. "I make pour decisions." -Unknown
18. "Novinophobia: The fear of running out of wine." -Unknown
19. "A day without wine probably won't kill me. But why risk it?" -Unknown
20. "Roses are red. Wine is also red. Poems are hard. Wine." -Unknown
21. "Drink wine. Feel fine." -Unknown
22. "A bottle of wine begs to be shared; I have never met a miserly wine lover." -Clifton Fadiman
23. "Am I an elitist because I like wine?" -Faith Salie
24. "Once we hit forty, women only have about four taste buds left: one for vodka, one for wine, one for cheese, and one for chocolate." -Gina Barreca
25. "I tried cooking with wine. After three glasses, I forgot I was in the kitchen." -Unknown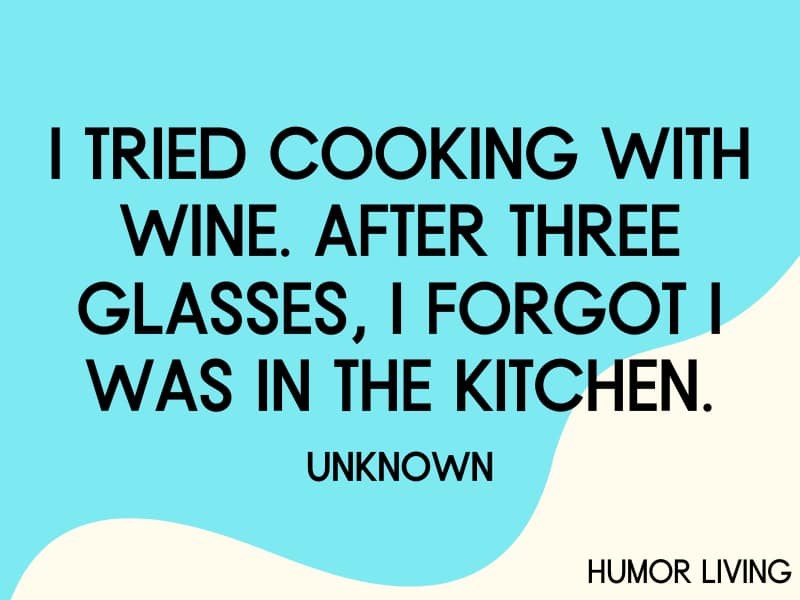 26. "I just rescued wine. It was trapped in a bottle." -Unknown
27. "I'm a winemaker and a wine collector, so I usually just drink wine." -Isiah Whitlock, Jr.
28. "I could probably die happy with a cheeseboard and a glass of French red wine – that's my idea of a perfect dinner." -Deirdre O'Kane
29. "I only go to yoga to drink wine, so I'm good. I just throw the calories right back in." -Kaley Cuoco
30. "Life is too short to not have oysters and champagne sometimes." -Christie Brinkley
31. "Wine is the answer. What was the question?" -Unknown
32. "Anyone who tries to make you believe that he knows all about wines is obviously a fake." -Leon Adams
33. "Champagne for my real friends and real pain for my sham friends." -Tom Waits
34. "Wine is the most healthful and most hygienic of beverages." -Louis Pasteur
35. "The champagne was flowing like the Potomac in flood." -Ben Bradlee
36. "Wine is bottled poetry." -Robert Louis Stevenson
37. "Penicillin cures, but wine makes people happy." -Alexander Fleming
38. "Wine a little, and you'll feel better." -Unknown
39. "I'm going to have some fabulous nights out with champagne." -Christian Siriano
40. "Age and glasses of wine should never be counted." -Unknown
41. "My grandmother is over eighty and still doesn't need glasses. Drinks right out of the bottle." -Henny Youngman
42. "Strategy is buying a bottle of fine wine when you take a lady out for dinner. Tactics is getting her to drink it." -Frank Muir
43. "As long as we have wine, family holidays will be fine." -Unknown
44. "For when the wine is in, the wit is out." -Thomas Becon
45. "We are all mortal until the first kiss and the second glass of wine." -Eduardo Galeano
46. "My only regret in life is that I did not drink more wine." -Ernest Hemingway
47. "Either give me more wine or leave me alone." -Rumi
48. "Give me wine to wash me clean of the weather-stains of cares." -Ralph Waldo Emerson
49. "Compromises are for relationships, not wine." -Sir Robert Scott Caywood
50. "In wine there is wisdom, in beer there is freedom, in water there is bacteria." -Benjamin Franklin
51. "An empty bottle of wine is better than a filled one. It shows achievement." -Unknown
52. "Champagne is appropriate for breakfast, lunch, or dinner." -Madeline Puckette
53. "People should have fun with wine. A bottle should sit on your dinner table like all of the other condiments." -Andre Hueston Mack
Related: Sarcastic Quotes and Sayings to Make You Laugh
Featured image by David Em/Humor Living.
David Em
David Em is the founder of Humor Living. He launched Humor Living to create a destination for you to visit anytime you need a laugh. Whether you're looking for jokes, puns, memes, or funny stories, Humor Living is the place to be.