Books are fascinating, educating, and significant. Regardless of the books you love, read the funniest quotes about reading books for a laugh.
Reading exercises your brain. It's also an excellent form of entertainment and education.
Whether you read a little or a lot each day, it benefits your health.
Books fall under fiction and non-fiction. Within the types, there are dozens of genres.
If you're ready to laugh, read the following quotes about reading books.
You can also share them with other bibliophiles and bookworms to share joy.
Related: Funny Letter Board Quotes
The funniest quotes about reading books
1. "'Classic.' A book which people praise and don't read." -Mark Twain
2. "A book that is shut is but a block." -Thomas Fuller
3. "You know you've read a good book when you turn the last page and feel a little as if you have lost a friend." -Paul Sweeney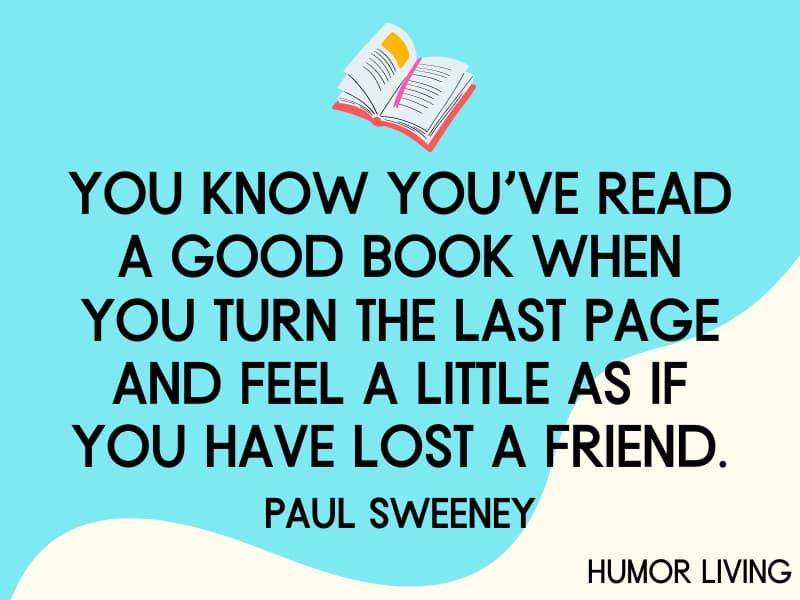 4. "The great thing about books is there are no commercials." -Unknown
5. "It's called 'reading'. It's how people install new software into their brains." -Randy Glasbergen
6. "Bookmark? You mean quitter strip?" -Unknown
7. "I like big books, and I cannot lie." -Unknown
8. "The book you don't read won't help." -Jim Rohn
9. "You're never too old, too wacky, too wild, to pick up a book and read to a child." -Dr. Seuss
10. "Every book is a children's book if the kid can read!" -Mitch Hedberg
11. "When I read about the evils of drinking, I gave up reading." -Henny Youngman
12. "Someone asked me, if I were stranded on a desert island what book would I bring… 'How to Build a Boat.'" -Steven Wright
13. "Wear the old coat and buy the new book." -Austin Phelps
14. "If my book is open, your mouth should be closed." -Unknown
15. "Always read something that will make you look good if you die in the middle of it." -P. J. O'Rourke
16. "My problem with reading is that I get distracted… By other books." -Unknown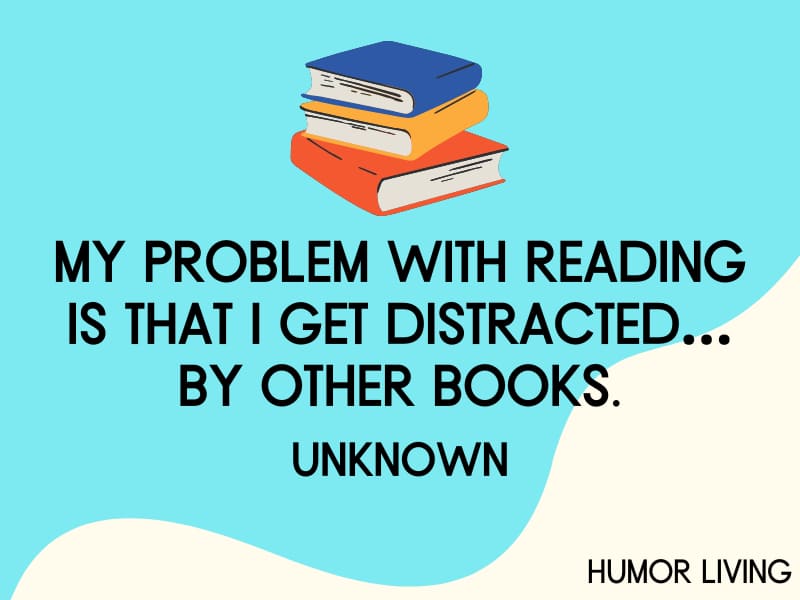 17. "Reading a good book in silence is like eating chocolate for the rest of your life and never getting fat." -Becca Fitzpatrick
18. "There are books of which the backs and covers are by far the best parts." -Charles Dickens
19. "When I get a new book, I read the last page first. That way, if I die before I finish I know how it comes out." -Nora Ephron
20. "If anyone needs me, I'll be reading. Please don't need me." -Unknown
21. "Reading one book is like eating one potato chip." -Diane Duane
22. "I'm not addicted to reading. I can stop as soon as I finish the next chapter." -Unknown
23. "There are two motives for reading a book; one, that you enjoy it; the other, that you can boast about it." -Bertrand Russell
24. "I enjoy long, romantic walks through the bookstore." -Unknown
25. "There are worse crimes than burning books. One of them is not reading them." -Ray Bradbury
26. "Where is human nature so weak as in the bookstore?" -Henry Ward Beecher
27. "Reading is a discount ticket to everywhere." -Mary Schmich
28. "There is no friend as loyal as a book." -Ernest Hemingway
29. "We read in bed because reading is halfway between life and dreaming, our own consciousness in someone else's mind." -Anna Quindlen
30. "If you don't like to read, you haven't found the right book." -J. K. Rowling
31. "I don't have insomnia. I just read a lot." -Unknown
32. "The worst thing about new books is that they keep us from reading the old ones." -Joseph Joubert
33. "Reading is an intelligent way of not having to think." -Walter Moers
34. "Books are no more threatened by Kindle than stairs by elevators." -Stephen Fry
35. "If you're going to binge, literature is definitely the way to do it." -Oprah Winfrey
36. "The suspense is terrible. I hope it will last." -Oscar Wilde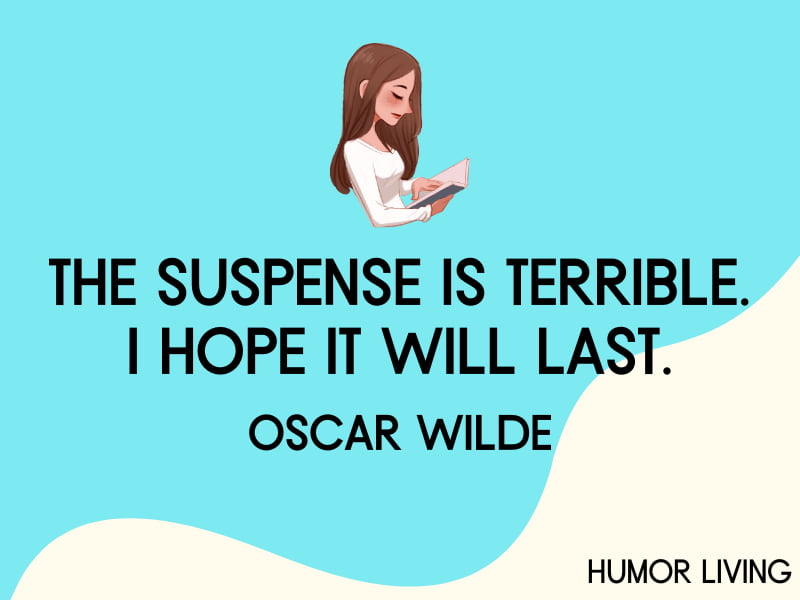 37. "Just in case things get boring, I'm bringing a book." -Unknown
38. "You can't get a cup of tea big enough or a book long enough to suit me." -C. S. Lewis
39. "People who say that I'm hard to shop for must not know where to buy books." -Unknown
40. "Books are a uniquely portable magic." -Stephen King
41. "Many people, myself among them, feel better at the mere sight of a book." -Jane Smiley
42. "Don't get into a relationship with someone who doesn't own any books." -Unknown
43. "Sleep is good, he said, and books are better." -George R. R. Martin
44. "Books are not made for furniture, but there is nothing else that so beautifully furnishes a house." -Henry Ward Beecher
45. "I guess there are never enough books." -John Steinbeck
46. "A half-read book is a half-finished love affair." -David Mitchell
47. "No entertainment is so cheap as reading, nor any pleasure so lasting." -Mary Wortley Montagu
48. "That's the thing about books. They let you travel without moving your feet." -Jhumpa Lahiri
49. "A room without books is like a body without a soul." -Cicero
50. "Books are the escape you never knew you needed until you start reading." -Unknown
51. "Reading is a conversation. All books talk. But a good book listens as well." -Mark Haddon
52. "You have to remember that it is impossible to commit a crime while reading a book." -John Waters
Related: Funny Quotes About Time
Featured image by David Em/Humor Living.
David Em
David Em is the founder of Humor Living. He launched Humor Living to create a destination for you to visit anytime you need a laugh. Whether you're looking for jokes, puns, memes, or funny stories, Humor Living is the place to be.