You fight, play, laugh, and cry with your sister. Read the funniest sister quotes when you're missing or want to make her laugh.
One of the most meaningful relationships in life is with your sister.
Growing up with one is excellent because she can be a source of support and understanding.
You may fight, scream, cry, and laugh. But no one gets you like your sister.
If you're ready to laugh, read the following funny sister quotes.
They're also perfect for sharing with your sister to make her smile.
Related: Funny Happy Birthday Card Messages for Your Sister
The best sister quotes to make you laugh
1. "If your sister is in a tearing hurry to go out and cannot catch your eye, she's wearing your best sweater." -Pam Brown
2. "A sister is both your mirror – and your opposite." -Elizabeth Fishel
3. "My first job is big sister and I take that very seriously." -Venus Williams
4. "A sister is like yourself in a different movie, a movie that stars you in a different life." -Deborah Tannen
5. "There are two types of encryption: one that will prevent your sister from reading your diary and one that will prevent your government." -Bruce Schneier
6. "My sister travels with me, and she's the person who keeps me in line, whether I like it or not. I trust her and also have a good, healthy fear of her." -Katy Perry
7. "My sister and I had a lemonade stand – with a two-drink minimum." -Wendy Liebman
8. "My sister can walk down the street and just know what's going on with people. She'll say, 'Oh, they're going through a divorce' or, 'Their kid just went off to college' or, 'He just got a great job.'" -Bryce Dallas Howard
9. "There's something so great about being with your nephew and, when you're tired, just handing him off back to your sister." -Tahj Mowry
10. "When my sister Joan arrived, I asked if I could swap her for a rabbit. When I think what a marvellous friend she's been, I'm so glad my parents didn't take me at my word." -Maeve Binchy
11. "When I was younger, my sister thought it was funny to pretend to punch me in the face because my mom was concerned about my teeth falling out. They were loose for a long time, and she knocked out my teeth." -Amy Adams
12. "When I was young, I told my sister that she had chunky thighs. She slapped me and I cried. She feels bad about it to this day, but I feel worse." -Jon Heder
13. "When I was younger, I actually had a ghost face mask, and I stood in my sister's room in the corner for, like, half an hour until she saw in the reflection, me behind her, and she freaked out and started slapping me." -Rory Culkin
14. "When I was really young. My sister and I would create different characters with our Barbie dolls – I'd be the crazy diva Barbie and she'd be the homeless Barbie." -Jordana Brewster
15. "My sister is a mess. I love her to death, but she is a mess." -RJ Mitte
16. "My sister saved me from drowning. I shouted at her because she pulled me out of the pool and hurt my arm." -Sarah Millican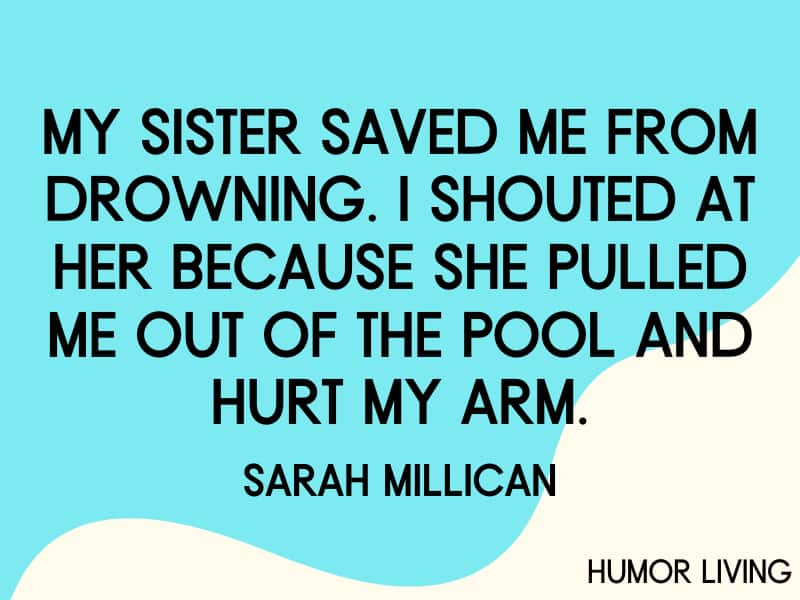 17. "My sister, mom and I all wear the same size, so I shop a lot at a boutique called 'my mother's closet' that is right down the hall from my bedroom. She has vintage Comme des Garcons dresses that I feel so elegant wearing." -Zoey Deutch
18. "My sister used to say I had a frail chest and she 'd beat me up all the time." -Michael Clarke Duncan
19. "Having a sister is like having a best friend you can't get rid of. You know whatever you do, they'll still be there." -Amy Li
20. "Never let an angry sister brush your hair." -Unknown
21. "Your sister knows everything to say to piss you off. But sisters tend to be each other's biggest champion and also their hardest critics." -Erin Foster
22. "The only person I lie to is my little sister, when I steal her clothes." -Kendall Jenner
23. "Sisters never quite forgive each other for what happened when they were five." -Pam Brown
24. "Remember as a kid when you hit your sister too hard and frantically apologize before your mom sees?" -Unknown
25. "It's so fun having a sister because I could literally clock her in the face, and she will still be my best friend three minutes later." -Unknown
26. "We shared a room, you stole my toys, and then my clothes, but best friends we became." -Catherine Pulsifer
27. "You can kid the world, but not your sister." -Charlotte Gray
28. "A sister is a dearest friend, a closest enemy, and an angel at the time of need." -Debasish Mridha
29. "A sister is the cure for swollen heads and ego trips." -Pam Brown
30. "Sisters don't need words – we've already got our own language of eye rolls, sighs, winks, laughs, and screams." -Unknown
31. "Happiness is annoying your older sister by being taller than her." -Unknown
32. "We have our own, unspoken language – a look that makes one of us fall on the floor laughing or the slight inflection in our voice that conveys everything." -Barbara Bush
33. "When mom and dad don't understand, a sister always will." -Unknown
34. "What are sisters for if not to point out the things the rest of the world is too polite to mention." -Claire Cook
35. "Sister is probably the most competitive relationship within the family, but once the sisters are grown, it becomes the strongest relationship." -Margaret Mead
36. "I'm unbelievably ticklish. When I was a little kid, my sisters would hold me down and tickle me until I peed my pants." -Ronda Rousey
37. "I would kind of torture her. I was the older sister, and it was just the two of us. So I would play mental games with her." -Emily Deschanel
38. "I smile because you're my sister. I laugh because there's nothing you can do about it." -Unknown
39. "Of two sisters one is always the watcher, one the dancer." -Louise Glück
40. "Little sisters can be a pain, but the big sister heroine worship can't be beat." -Allison Lee
41. "My sister has an awesome sister, true story." -Unknown
42. "Don't talk about my sister; don't play with me about my sister. If you do, you'll see another side of me." -Beyoncé
43. "Oldest sister: I make the rules. Middle sister: I'm the reason we have the rules. Little sister: Rules don't apply to me." -Unknown
44. "I don't know how I didn't kill any one of my sisters. For this one horror film we were making, I made my own harness for my sister. I wrapped her in all these ropes, but then also put a noose around her neck and hung her from a tree. Now I think, 'What if my harness didn't work?' I'm so lucky that nothing ever happened." -Alexa Vega
45. "Big sisters exaggerate." -Alfie Allen
46. "My sister taught me everything I really need to know, and she was only in sixth grade at the time." -Linda Sunshine
47. "Sisters are always drying their hair. Locked into rooms, alone, they pose at the mirror, shoulders bare, trying this way and that their hair, or fly importunate down the stair to answer the telephone." -Phyllis McGinley
48. "You're not my best friend. You're my sister, and that's more." -Jenny Han
49. "We are sisters. If I am mad at someone, you are mad at them, too. End of story." -Unknown
50. "She could always talk me into anything. My sister made me a little starstruck." -Stacey Ramey
51. "Sisters will always love you tomorrow no matter what you do today." -Marinela Reka
52. "Dear little sister, never forget, I was your first boss! Now, do my dishes." -Unknown
53. "When I say I won't tell anyone, my sister doesn't count." -Unknown
54. "I can sit down with my sisters, and they can talk about my body in a certain way, and I will laugh about it with them. That's such a comfortable and loving relationship. But if a stranger I meet in a party makes the same comment, depending on their tone, that's not okay." -Rupi Kaur
55. "It's hard to find a sister who's this loving, generous, beautiful, and smart – I hope you never lose me!" -Unknown
56. "My two sisters and I sang all the time. Whenever we cleaned the kitchen, we sang in three-part harmony." -Kina Grannis
57. "You may be as different as the sun and the moon, but the same blood flows through both your hearts. You need her, as she needs you." -George R. R. Martin
58. "I get in fights with my sister all the time. She comes on the road with me and we fight – like sisters do." -Florence Welch
59. "My sisters, we didn't like each other as kids. We were scared of each other, I think, but we've grown to love each other." -Dorothy Allison
60. "Me and my sisters were so awful. One nanny, we loved, but we hacked her email and sent her boyfriend lots of weird messages, and we once actually locked her in the toilet, too." -Suki Waterhouse
61. "I have three older sisters who, when we were children, used to hold me down on a bad day and put make-up all over me, so I've had an aversion to it all my life and hate sitting down in the make-up chair." -James Nesbitt
62. "Sometimes, I think I am ugly. But then, I look at my sister and get over it." -Unknown
63. "Your sister's advice (solicited or unsolicited), carries weight." -Lorraine Bodger
64. "Sister to sister, we will always be a couple of nuts from the same tree." -Unknown
65. "My sisters said, Why do you make those faces? You make yourself so ugly." -Paul Lynde
66. "Someone has to know all my passwords so they can delete all my embarrassing pictures in case I die – and you've already seen all my birthmarks." -Unknown
67. "Sisters. Because we all need someone who will defend us behind our back and then call us on our shit to our face" -Brooke Hampton
68. "I grew up with three sisters, so I got used to being around them and all of their worries about fashion and what they are wearing." -Israel Broussard
69. "As far as sisters go, you're the best there is, but I'm still the favorite." -Unknown
70. "They're my sisters. We don't always like each other, but we'll always love each other." -Gina Schock
71. "If you think I'm high maintenance, you should see my sister." -Unknown
72. "I got four sisters. They're all very fierce." -Chad Coleman
73. "My sister and I are so close that we finish each other's sentences and often wonder who's memories belong to whom." -Shannon Celebi
74. "A sister knows you hide your best chocolate in the bag of broccoli in the freezer. A good sister leaves you a piece. Guess which one I am." -Unknown
75. "I can't tell you how many times I heard from younger sisters that their older sisters were bossy and judgmental." -Deborah Tannen
76. "I have two sisters, so we watched all of the Disney films. I think I still know the lyrics to them all." -Richard Madden
77. "That feeling when you're so excited to see your sister… and you realize she's wearing your clothes." -Unknown
78. "The mildest, drowsiest sister has been known to turn tiger if her sibling is in trouble." -Clara Ortega
79. "Sometimes, talking to your sister is all the therapy you need. Sometimes, after talking to your sister, you need therapy." -Unknown
80. "There is no place for secrets in sisterhood." -Erin Forbes
81. "Sisters who slay together, stay together." -Unknown
82. "You keep your past by having sisters. As you get older they're the only ones who don't get bored if you talk about your memories." -Deborah Moggach
83. "Yes, I do have the best sister in the world. It's just that she's crazy and she scares me a little bit." -Unknown
84. "If you don't understand how a woman could both love her sister and want to wring her neck at the same time, then you were probably an only child." -Unknown
85. "Sisters are like fat thighs. They stick together." -Unknown
86. "Big sisters are the crab grass in the lawn of life." -Charles Schulz
87. "A sister will always notice her sister's first gray hairs with glee." -Allison Lee
88. "What it's like having a sister: One second, they're stealing all your stuff, and the next second, they're taking you on a date to the movies." -Unknown
89. "More than Santa Claus, your sister knows when you've been bad and good." -Linda Sunshine
90. "Nobody fights you like your own sister; nobody else knows the most vulnerable parts of you and will aim for them without mercy." -Jojo Moyes
91. "We'll always fight, but we'll always make up as well. That's what sisters do: we argue, we point out each other's frailties, mistakes, and bad judgment, we flash the insecurities we've had since childhood, and then we come back together. Until the next time." -Lisa See
92. "I made my older sister cry playing Monopoly once." -Johanna Konta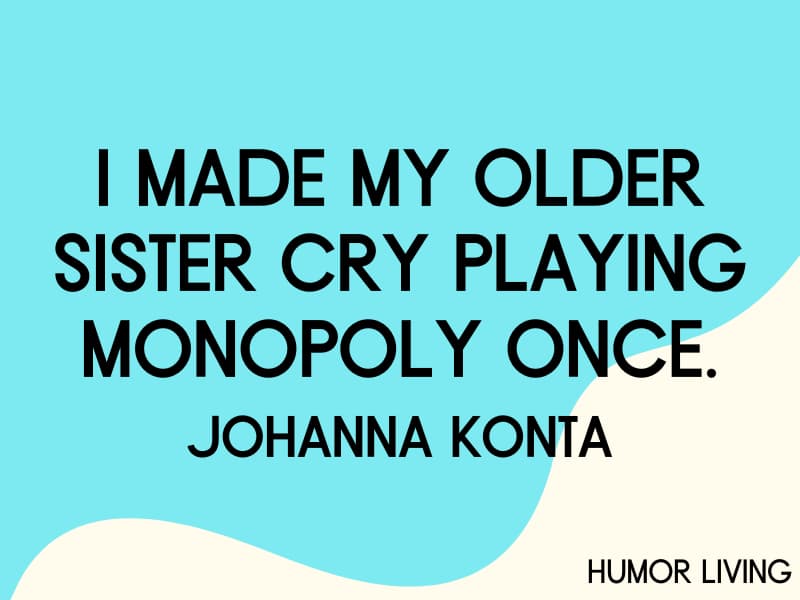 93. "Everybody has fights with their sister." -Joe Williams
94. "My sister could fall asleep at the drop of a hat. She would fall asleep on the train. Me, I never slept. Still. I have a hard time sleeping. But I used to admire her ability to wake up late." -Cheri Oteri
95. "My sister discovered the Beatles when she was about 11 and I'm four years younger. So we had nothing but Beatles paraphernalia. Every night I fell asleep to a different Beatles album." -Christina Ricci
96. "I grew up believing my sister was from the planet Neptune and had been sent down to Earth to kill me. I believed this because my sister Emily convinced me of it when I was a toddler. I think she'd seen Invasion of the Body Snatchers and her imagination ran away with her. There's a part of me that still believes it." -Zooey Deschanel
97. "My older sister showed me 'Hellraiser' when I was, like, 4, and 'Friday the 13th.' She kind of scarred me, but I like watching scary movies with people because you're together in this scary situation. It makes all that more fun." -Evan Peters
98. "I picked up the Puerto Rican accent from my father, and my sister picked up my mother's very clear, concise, and slow Mexican-Spanish. So, when she does speak, she speaks with diction. She pronounces every word." -Alanna Ubach
99. "My sister wanted to be an actress, but she never made it. She does live in a trailer. She got halfway. She's an actress, she just never gets called to the set." -Mitch Hedberg
100. "Me and my sister made up a game called 'Milky Cow'. We were on holiday in France when I was 12, and there was a kid who had bovine features, and every time we went past her, we'd say, 'There's Milky Cow'." -Greg Davies
101. "I lived with older sisters, and I'd bang pots and pans when they slept." -Brian Quinn
Related: Funny Yearbook Quotes to Make You Laugh
Featured image by David Em/Humor Living.
David Em
David Em is the founder of Humor Living. He launched Humor Living to create a destination for you to visit anytime you need a laugh. Whether you're looking for jokes, puns, memes, or funny stories, Humor Living is the place to be.